Gordon Shaw is an illustrator and comic-maker who lives and works in Leith, Edinburgh. Gordon was diagnosed with an inoperable and incurable brain tumour in 2012. Since his diagnosis he has created a few zines, but the comic "Bittersweet" details his emotions and inner thoughts about his brain cancer journey.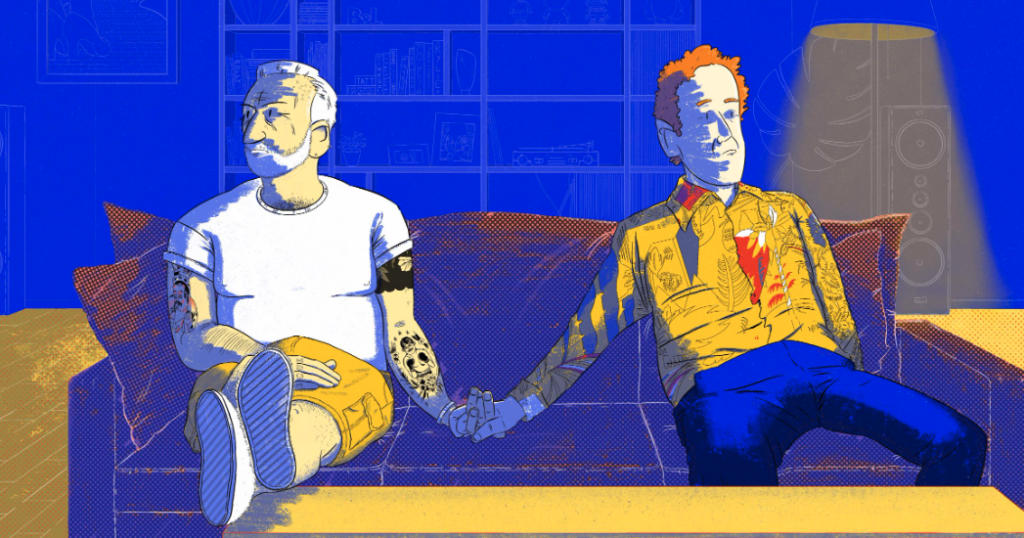 When Gordon was approaching his 40th birthday, he found Shawn, the love of his life.  Shawn is from Bath County, Virginia. The movie "Long Live my Happy Head" tells the story of Shawn, Gordon, their love story and dealing with cancer and its aftermath.
Long Live My Happy Head is a film about cancer and comic books, but it's fundamentally a love story. We journey with Gordon and Shawn through one of the most difficult times of their lives only to see them emerge from the other side even stronger than before. Through intimately captured observational footage and video diary, stylised key interviews and animations created from Gordon's comic illustrations, this film immerses the audience in Gordon's world, and reveals how art, love and a sense of humour can soothe our deepest fears of mortality and losing the people we care most about.
You can watch the film trailer here and if you are in the UK you can find the film on BBC iPlayer.